Apr 23 2009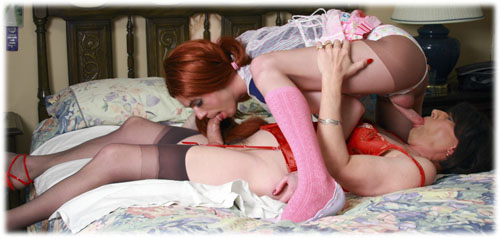 Oh wow, Katie Ann of TheCrossdresser.com is back! Actually, she never left . . . I just haven't written about her in awhile. Anyway, here she is sporting some nice sheer pantyhose with a cut out crotch. And of course, one layer is never enough for Katie, so she's also wearing pink cableknit knee-high socks over her pantyhose. She tops it off with the most adorable pair of pink round toe pumps I have ever seen.
Oh, and maybe I didn't mention that she's wearing this great outfit while sixtynine-ing with another crossdresser! Can you get any hotter than that? Oh yes, and Katie's going to prove it. Her crossdressing friend (whom she refers to affectionately as mommy) is decked out in traditional nylon thigh highs and a bright red garter belt to match her red corset.
I'm not sure how these two beautiful crossdressers managed to not gag eachother on their engorged clitties – they are both rather well endowed. Sounds like Katie rather enjoyed her experience with her new crossdressing mommy though, as you can read on her tgirl blog. And she just posted the video to go along with this lovely pic on her website, The Crossdresser!
3 Responses to "Crossdresser 69 in Pantyhose"
#

rosy

on 17 Jun 2010 at 5:10 pm

love this pize.

#

tvdomm

on 21 Sep 2011 at 8:14 am

Its exciting to me to feel his cum pouring out onto my mouth at the same time mine is pouring-the groping and squirming and squishing as we are giving each other out warm thick tasty cum and sperm-I also like the kissing and fondling as we get so hot and wet knowing that soon we will be using each others mouth-and the slipery mouth will feel just like a pussy-I also like to have a man take his cock out of a wet pussy and then lick and suck the precum and pussy juice off the cock then suck hher hole till its dry

#

admin

on 23 Sep 2011 at 6:51 pm

wow tvdomm. all I can say is wow, that got me quite turned on
Leave a Reply